I iz excited, I can finally make a cool gangsta
lookin sim with this CC I found :D
This is Tayvon, A sim I made a while ago.
I liked him, I just didn't have any clothes to fit
the character I was trying to create. But tis possible nawz xD
The shirt is from
Myosaekui The Sims 3
(My new fav sims 3 site!)
I don't think the shirts are particularly new, but they were new to me!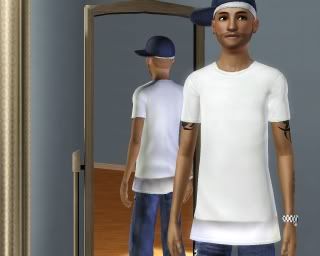 His pants are from
All About Style
Again, I don't think they're new :P
Coyadre is excited :D
I'm off to go play with mah gangsta simmy now.